Create Your Own Original Hand Lettering Sign
Do you admire those beautiful hand lettering signs you see in all the home decor styles now? They just look so gracefully written. Like the artist had to dance around with twirling with a pen to make their handwriting look so graceful. One of the things I have never loved is my handwriting. I am constantly admiring artistic hand-drawn words and have always secretly wished I could create my own hand lettering sign.
Recently when visiting friends home, I admired a hand-lettered sign she had on display. Then she told me she created it herself (which at first I didn't believe), and that I could learn to do it also! Wait! What?!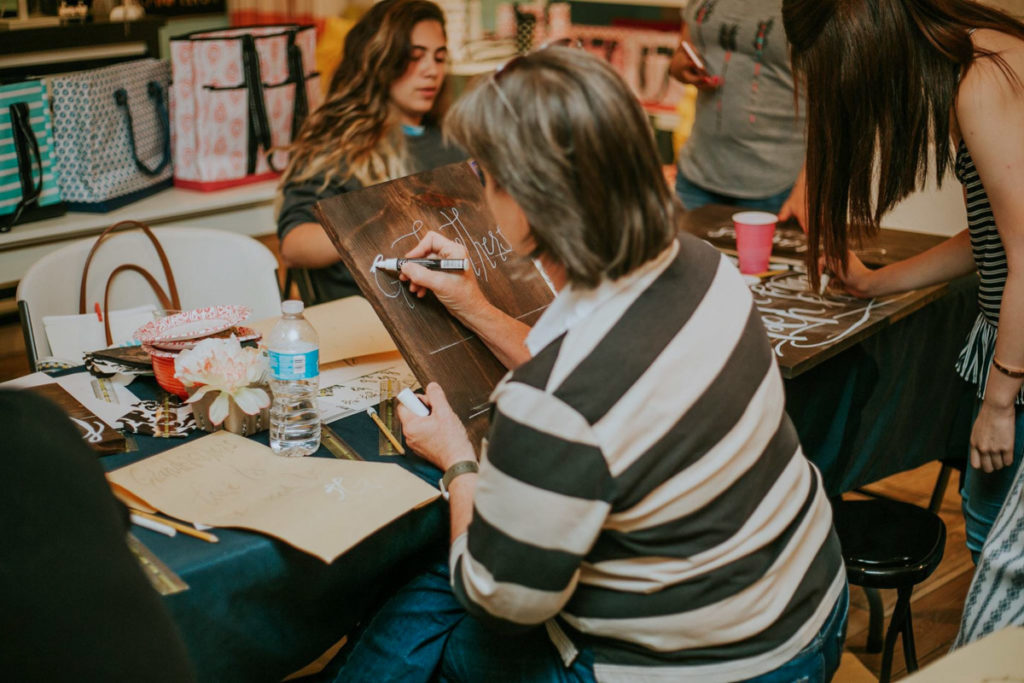 Over the moon excited.
This news litterally made me jump out of my seat. I was bursting with excitement. I couldn't ask enough questions….
"Even if I have bad handwriting I can learn?"
"How long did it take you to learn?"
"Can you imagine how many amazing things I could do if I could learn this?"
"I wonder how many signs I would ruin before I got one right?"
My friend assured me that not only could I learn it, but that I will fall in love with it. She connected me with Nicole Lind, the creative mind behind
Channel and Teak
. As soon as I met her, I knew I wanted to invite Nicole to teach at The Cozy Castle.
Is beautiful hand lettering something that you have dreamed of mastering? Or at least attempt to make look graceful? With Nicole's class, this is actually possible! What will your hand-lettering sign say? We are going to make our hand-lettering dreams come true just in time for the holidays!
About Nicole Lind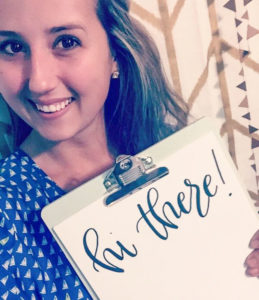 Nicole shared some great info about herself and her class with me. Here's what she had to say,
"I have always enjoyed creating and crafting and when Pinterest was beginning to blow up, lettering started showing up everywhere and I began playing around with it. My day to day handwriting would make you think I'm a doctor, seriously, it's hardly legible half the time!"

"The name Channel and Teak comes from the street names of my two 'homes'. It represents the crossroads of where my past meets my future. Teak is the street I grew up on while Channel is the street where my husband and I bought our first home together. The idea that you can always go home is something that I keep close to my heart.
"I really enjoy sharing my passion for lettering and creating and
I am looking forward to sharing it with everyone!"
Nicole's goal through these workshops is to show that everyone and anyone can make beautiful lettering. It really is more of an art form and everyday handwriting has nothing to do with it. Her class with teach you the basic guidelines to get you inspired for your lettering journey.
Is hand lettering something you would love to learn? Now's your chance. Here at The Cozy Castle, we're all about learning how to create with new artistic mediums while connecting with others. This class is going to be a completely new medium for me and many of us. We're thrilled to have you join us!
Indulge in your creativity. Indulge in your love for holidays. Indulge in the joy of decorating your home and creating something that you can enjoy for years to come!
Holiday Hand Lettering Class
with Nicole Lind
Saturday, December 2 at 11:00 AM
$45 per person
(includes all supplies and treats)
---
This Holiday Hand Lettering Class currently has a waiting list.
If you would like to be put on the waiting list OR if you would like to schedule your own Hand Lettering Class, please email me here.