Life is like a cup of tea….it's all in how you make it!
I think there are few things as grand as enjoying afternoon tea. When one can enjoy this simple pleasure in the quiet elegance and refinement of a grand English Tea parlor, the afternoon is sure to be a delight!
Join me as we enjoy a high tea lunch while I share my Vintage Valentine Ephemera and love letter collection! After our tea, we will visit Ellicott City's quaint shops, several which are offering a special discount for this group only. You will also receive a special gift to take home.
Tea on the Tiber in Beautiful Ellicott City, Maryland
The town of Ellicott City is one of my favorite places to be. Founded in 1772, it is packed with history. The quaint shops, restaurants, and stores offer such unique merchandise and dining experiences.
In July of 2016, torrential rainfall occurred in Ellicott City causing severe flooding and huge destruction to the historic old town portion of the city. Many of the businesses which had been there for years were destroyed. My heart ached for this town I so adore.
I wondered if it could ever be restored. I learned recently that one of my favorite shops in the city, Sweet Elizabeth Jane had reopened. I was so overjoyed to hear of this that I could hardly wait to get there! I carved out an afternoon and as I pulled into the town, tears filled my eyes. The sweet town was back.
Although there are some places that will never be able to reopen, most of these business people stood strong and rebuilt. I can't even imagine the love and patience it took for them not to give up, but to keep striving to bring back life to this town.
It's Tea Time
It was on this afternoon I discovered Tea on the Tiber and decided I would have "tea for one". I stepped out of the cold winter air into an atmosphere which is much like that from a storybook. It is such a beautiful place with 3 floors, and even a child's tea room! Realizing that Valentines Day was on the way, I decided while enjoying my amazing chai tea, this would be the perfect place for Cozy Castle Events to host a one of a kind themed tea party.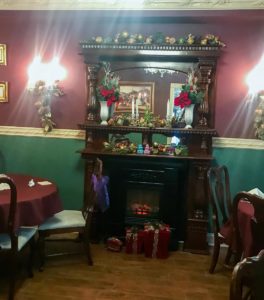 Enjoy Bygone Valentines Ephemera
Ephemera are items of collectible memorabilia, typically written or printed ones. Through the years, I have been enchanted with Vintage Valentines, mainly from the Victorian period, and I have a lovely collection to share with you. During this special tea event, I will be sharing some history of vintage valentines and you will be able to enjoy them along with my collection of antique love letters and autograph books and journals.
Enjoy high tea with published artist Karen Paige Hillman at this decadent Victorian tearoom.
Our tea time will consist of a pot of tea with a three-course meal including savories, English manor scones with English clotted cream, lemon curd and jam, sweet bread, fruit and cheese, and assorted unique pastries and desserts.
Dress in high tea splendor if you wish!
Valentine colors and hats are encouraged!
This will be a group of up to 24 and we will have tea in the beautiful parlor of the tearoom. Every now and then one should stop time and enjoy an afternoon such as this. It is a perfect reason to grab a special girlfriend, your mom or your Grandmother and indulge in this lovely experience.
Valentines Victorian Tea
Saturday, February 10 at 11:30 AM
Tea on the Tiber Tearoom
8081 Main Street Ellicott City, Maryland 21043
$45 per person
(includes tax and tip )
---
---
*All registrations must be paid at least 3 days in advance of an event.
All ticket registrations are nonrefundable. All ticket sales end 72 hours prior to event time. If you have a personal emergency and call Karen 24 hour prior to an event, you may be able to apply your registration to a future event, per host's discretion.